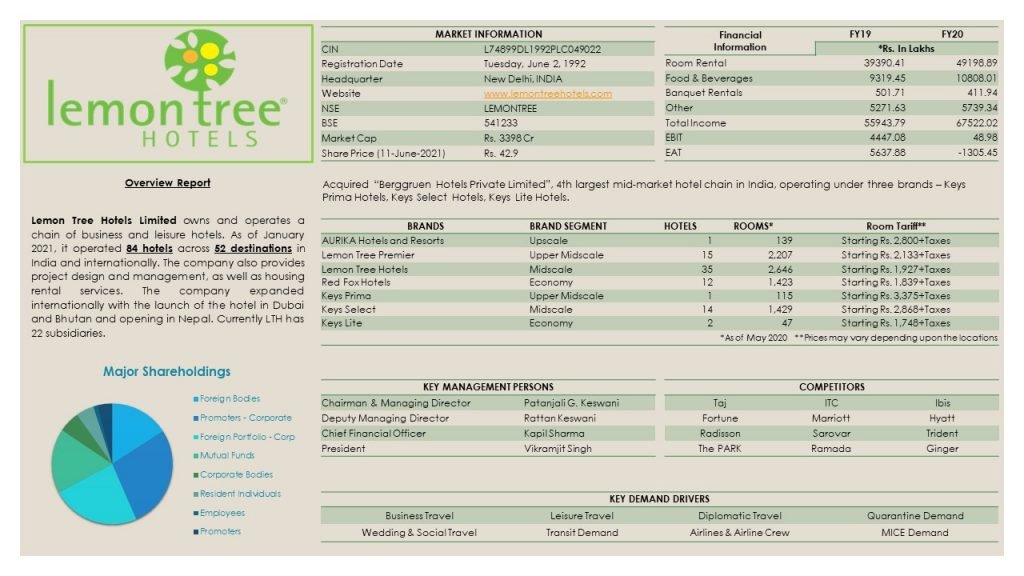 Prepared By: Amol Anvekar trainee at Finoptions Institute of financial studies pvt ltd
Guided By: Gaurav Somani, CFA, FRM
Lemon Tree Hotel is an Indian hotel Chain headquartered in New Delhi. The firm has 84 hotels, with 8300 rooms operating in 52 cities in India. The company operates under 7 brands: Aurika Hotels and Resorts (upscale), Lemon Tree Premier (upper midscale), Lemon Tree Hotels (midscale) & Red Fox by Lemon Tree Hotels (economy), Keys Prima (upper midscale), Keys Select (midscale) and Keys Lite (economy).
What do you think about the overall performance of Lemon Tree Hotel So far. Let us know your thoughts in the comment section.
All the information provided in the report is solely for the purpose of learning and understanding financial research and reporting and does not have any commercial intent.
​